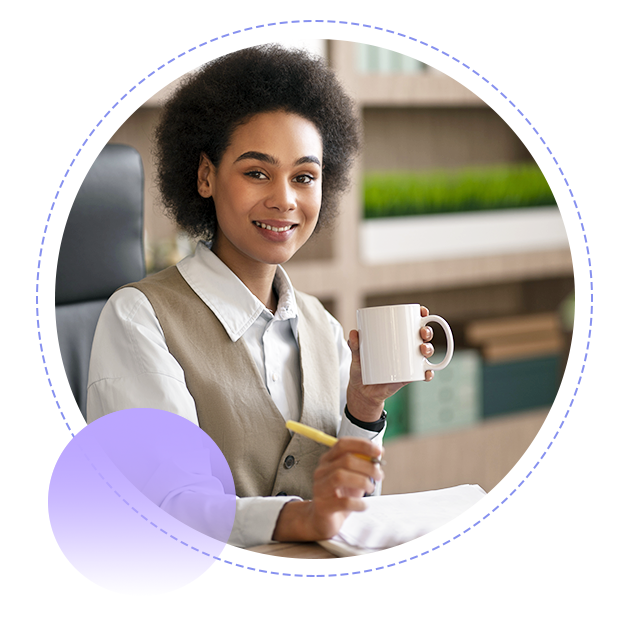 Digital Engagement Platform
Designing a customer-centric banking system
Customers today expect their digital experience to be personalized and convenient.
Engagement platform is a new approach that puts the customer at the center of every decision, from the moment they become a customer to their ongoing interactions with the financial instituions.
This requires a comprehensive platform that simplifies and streamlines the customer journey, making it easy for them to manage their financial affairs. By focusing on the needs and preferences of the customer throughout their entire lifecycle, banks can build stronger, more loyal relationships and better meet the evolving needs of their customers.
A conventional flawed system
New tech-focused competitors
pose a significant threat to traditional banks and credit unions
It requires them to address three key challenges in order to remain competitive and meet the expectations of their customers.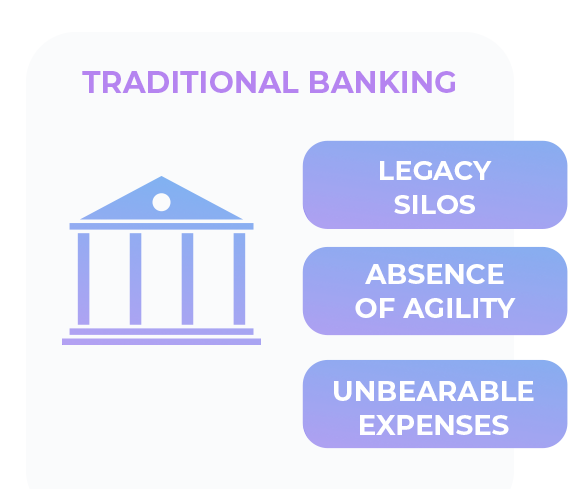 Legacy Silos : Fragmented, standalone solutions have disrupted the customer experience, making it difficult to provide a seamless journey across products, channels, and services.
Absence of Agility : The outdated, complex nature of these legacy systems hinders the agility of banks making them consume a large portion of their IT budget for maintenance rather than innovation.
Unbearable Expenses : The complexity of these legacy systems imposes a heavy financial burden on banks, making it difficult for them to keep up with customer expectations and stay competitive in the market.
As a Bimodal digital engagement platform, we enable financial institutions to engage with their customers and stakeholders through two distinct modes
This mode focuses on standardizing, automating, and optimizing core banking processes, such as account management and transactions, to drive efficiency, reliability, and scalability.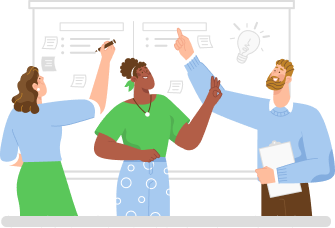 Innovation and Experimentation
This mode focuses on exploring new opportunities, testing new ideas, and quickly delivering new digital experiences and services to customers, such as mobile banking and robo-advisory services.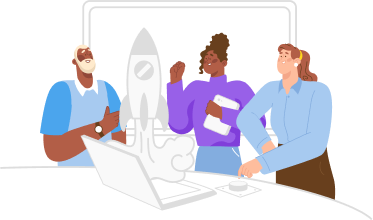 What can you gain from
Bimodality?

Improved customer
experience
Stay ahead of customer expectations and improve customer satisfaction.

Allow yourself to respond quickly to changing market conditions and customer needs.

Align your digital efforts with your core business objectives, improving the overall effectiveness of your digital initiatives.

Increased competitiveness
Stay ahead of the competition and offer cutting-edge digital experiences to your customers.
Transcend into the new Digital Banking Era
To meet the expectations of their customers and remain competitive, banks must embrace a modern, customer-centric platform that integrates engagement orchestration services and streamlines all customer journeys. This will allow them to improve the overall customer experience and increase efficiency.
A platform serves as a hub for customer demand and requirements, synthesizing and aggregating value from various internal and external sources, including products, services, and data.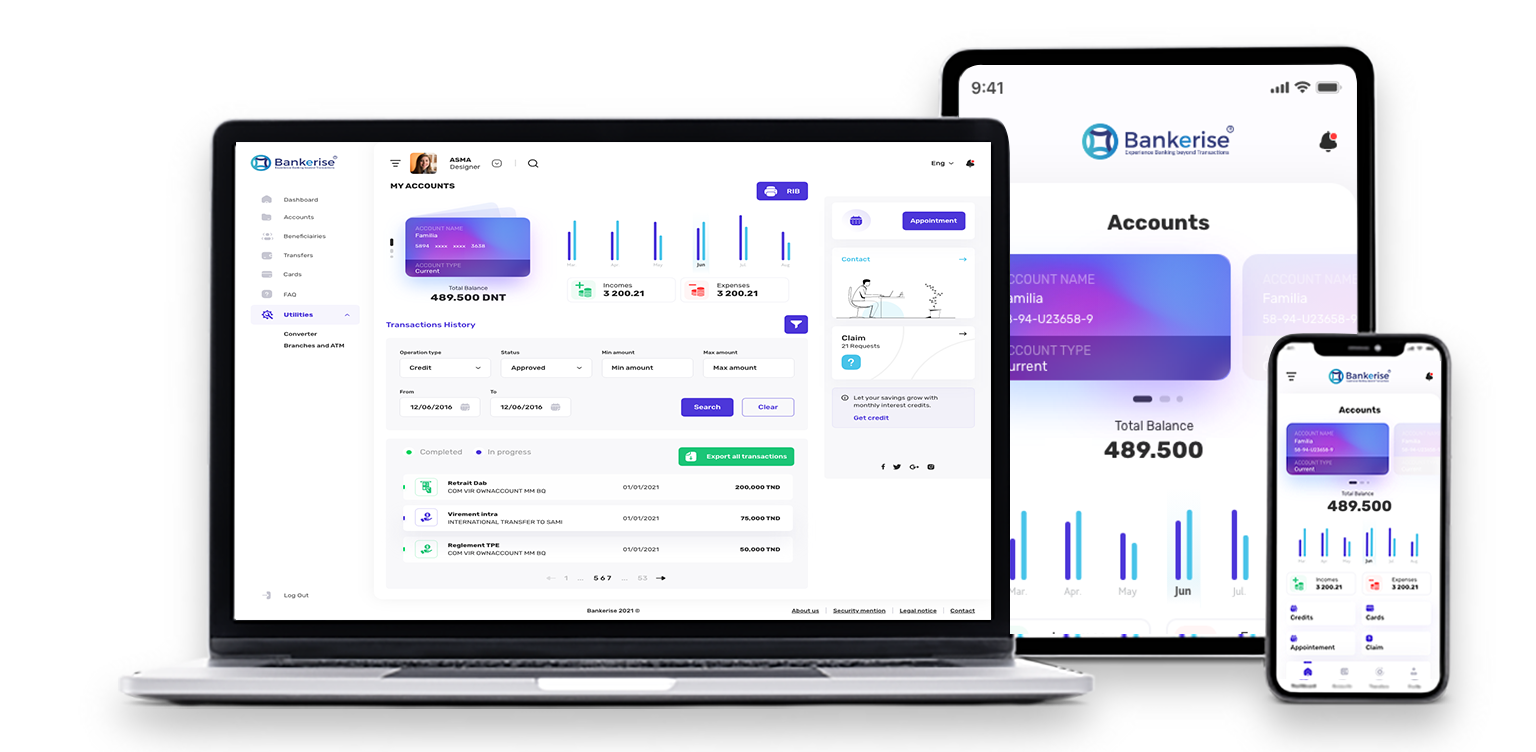 Revolutionize your banking journey with engagement-focused strategies 
It is crucial for traditional banking to shift from compartmentalized vertical structures to a more integrated and organized platform approach at this time.
A data-driven platform that empowers customers with valuable financial insights and enables banks to build stronger, more personalized relationships for improving customers' financial lives.
A platform that effectively gathers value from various sources can coordinate smooth customer experiences on all touchpoints, throughout the entire customer journey.
We offer :
- Customer distribution by segments : Better understand your customer base and tailor your marketing and sales efforts to specific segments.
- Customer distribution by business sector : Provide insight into the types of businesses or industries that your customers are associated with. This metric can be useful for understanding the company's customer base and identifying opportunities for growth or diversification.
- "Right first time rate" and "not right first time rate" are performance indicator commonly used in the credit industry to measure the accuracy of credit decisions.
With a track record of delivering exceptional results, our agile methodology guarantees the pinnacle of design, prototyping, testing, and development for digital banking apps and platforms.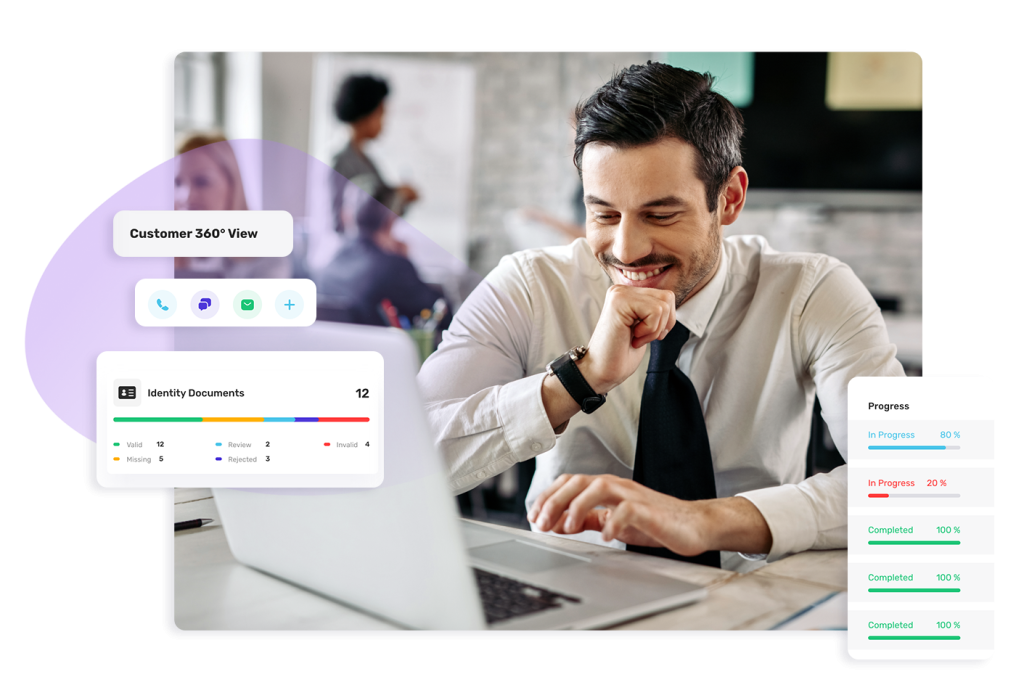 Bring your
own style and flair 
Craft tailored experiences that perfectly match your bank's brand and vision 
You are the authority on what your consumers and staff require. And we're here to help.
Bankerise allows you to design excellent journeys using reusable building blocks, giving you complete freedom and flexibility to develop user journeys in any way you see suitable.
Our Digital Engagement Banking Platform's Trump Cards
Our patform offers efficient and innovative advantages for a fast change in the financial sector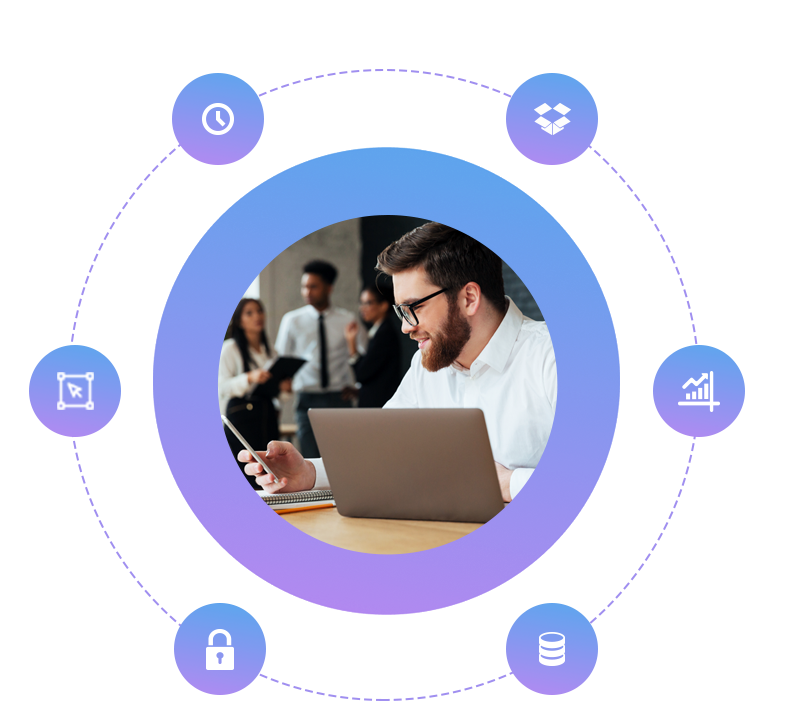 Throughout our software development approach, we create our applications with minimal coding by using drag-and-drop interfaces, pre-built templates, and visual modeling tools.

Faster development time
Low-code enables rapid application development and deployment, reducing the time to market.

Increased efficiency
Our software approach streamlines the development process, allowing developers to focus on high-value tasks rather than writing repetitive code.

Increased accessibility
Low-code makes application development accessible to non-technical users, allowing them to build and customize applications without coding.

Improved quality
Low-code enables automatic code generation and testing, reducing the risk of errors and improving overall application quality.

Better scalability
Low code applications can easily scale as the business grows, without the need for extensive rewriting of code.

Improved collaboration
This promotes collaboration between business stakeholders and IT, leading to better alignment and faster decision making.